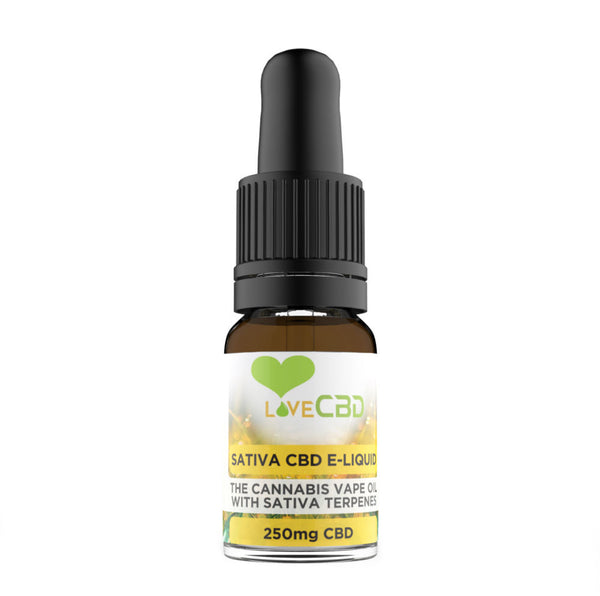 Sativa CBD by Love CBD is an e liquid infused with specific cannabis terpenes blended in such a ratio that's intended to imitate the effects of Sativa strains of cannabis.
250mg CBD infused with Sativa Terpenes per 10ml.
Trace THC.
CO2 Extraction.
No pesticides, herbicides, or harmful chemicals.
Suggested Use: Add to your vape tank, cartridge or pod and vape 1-4 times per day. For vape usage only!
Ingredients: E-Liquid Base (65% PG, 35% VG), CBD, Terpenes.
---
What are terpenes?
Terpenes are found in various plants and act as a natural flavouring. Depending on what terpenes are present, and in what ratio, combined they create unique aromas and flavours. When consuming CBD along with terpenes, you are sampling a broader part of the plant with more potentially nutritious compounds.
---
What is CO2 extraction?
CO2 extraction is FDA approved and widley used, as a safe, natural and sustainable. CO2 extraction is the best way to isolate and remove cannabinoids such as CBD oil to ensure a pure CBD product, working with other compounds such as terpenes and flavanoids.
---
What is THC, why do we sell THC Free products?
THC is a pyschoactive compound found in Hemp plants, often giving you the high feeling. THC free products extract all of the goodness from the plant without the need to worry. There are a number of extraction methods used to seperate CBD from THC and other harmful chemicals. THC-free CBD oil products can be used as a nutritional supplement to help bodily ailments. Read more about the possible
effects of THC
.
---
What is VG/PG?
VG or Vegetable Glycerin is a natural chemical derived from vegetable oil. Commonly used to give e-liquid a thick and much smoother sensation, suitable for sub-ohm vaping.
PG (Propylene Glycol) has no odor or color, and is used to provide a throat hit, similar to when smoking tobacco. Also allows better carrying of the flavours.
---
About Love CBD
Since 2014, Love CBD has established itself within the industry. After seeing the growing demand and popularity of CBD oil - the UK based company continued to pursue it's own product range with a variety of options including capsules, balms and CBD spray. Grown organically without the use of pesticides, herbicides, artificial fertilisers or harmful chemicals.
Delivery Costs (UK)
FREE delivery

for

orders over £20.00
£2.75 for Second Class Delivery
£3.25 for First Class Delivery
Delivery Information (Europe)
Free standard delivery over £25
Standard Delivery -

£4.90
Delivery Information (International)
Standard Delivery -

£4.90
Note, it generally takes up to 12-14 hours to dispatch your order, which should be considered. If there any delays on your order, you will be notified within 24 hours. Once your order has been processed, you can view the status of your order within your account, and will be contacted once your order has been fulfilled.
We use multiple shipping partners including MyHermes, UPS, or Royal Mail. A tracking number will be provided where applicable. All orders are sent via Standard Delivery by default.
We deliver Worldwide, while additional charges may apply at customs. It is the responsibility of the customer to resolve this.
Click here for full delivery terms and conditions
Ensure you store the product in original packaging and in a cool place, out of the way of children.
Do not exceed the recommended dosage.
This product is not intended to diagnose, treat, cure disease.